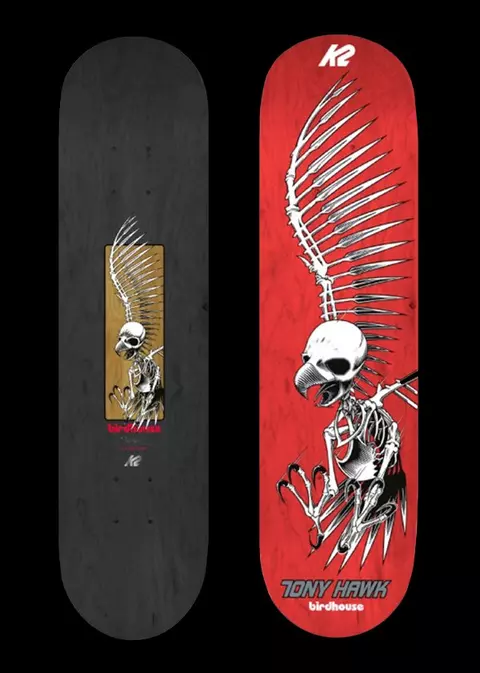 K2 X Tony Hawk X Birdhouse Skate Deck
We joined forces with legendary skateboarding pioneer Tony Hawk on a very special graphic release on two of our favorite boards. Featuring classic Birdhouse graphics and just the right amount of K2 vibes, this K2 X Tony Hawk X Birdhouse collaboration is extremely limited and sure to move fast. What ́s obvious? Of course, there must be a K2 X Tony Hawk X Birdhouse Skate deck coming with these unique graphics to complete the collection in your trunk. These will only be available with this bundle and while stocks last!
Get your own K2 X Tony Hawk X Birdhouse Skate deck by doing the following:
1. Buy a K2 x Tony Hawk x Birdhouse Afterblack or Party Platter Snowboard + one pair of K2 bindings together in one purchase at any online or offline store in Europe. It doesn't matter which model the bindings are.
2. Visit getyourk2skatedeck.com or scan the campaign's QR Code provided by K2.
3. Enter your contact details below, all needed info, and confirm the terms & conditions.
4. Upload a picture of the receipt of purchase (no personal info needs to be shown).
5. After the return period, we send out your K2 X Tony Hawk X Birdhouse Skatedeck.
Now enjoy your exclusive deck and don't forget to do a kickflip...

ABOUT THE K2 X TONY HAWK X BIRDHOUSE COLLECTION
Load up the van, drive on to Mammoth, and snowboard with your friends. That was the vibe. Spinning hot laps in the California. K2 Snowboarding teamed up with legendary skateboarder Tony Hawk and Birdhouse skateboards on a micro-collection of product to bring skate style to the snow.